Posters and Flyers are using for different purposes and also used for Advertisement. There are plenty of tools available online that help you to create posters and flyers for your project. But Most of them are not free and required a separate license.
In this post, I am going to show you how to create free posters and flyers using DesignCap. Let's check it out.
Introduction
DesignCap is a free online tool that helps you to create free posters and flyers. It is managed by Pearlmountain which is a well known graphic design software company. DesignCap helps you to create stunning looking posters and flyers within a few minutes. Let's check out some of its features.
Features
There are lots of features that you will get with this free online poster and flyer creator site. Some of them are as follows
Free Templates
DesignCap comes with hundreds of professionally designed themes such as advertising, sale, wedding, sports, holiday and event, will give you some insights and inspiration. No matter the purpose of your posters or flyers, that help you to create professional looking posters and flyers for your project.
Plenty Of resources
DesignCap comes with lots of resources like Stock photos, fonts, images, shapes, icons, and background. It will help you to get all resources and tools under the one roof.
Fully Customizable
With a Powerful and intuitive editor, Designcap let you customize Your posters and flyers with just a few clicks. You can also add elements as per your requirements to make your creation looks more professional.
How to create free Posters and Flyers using DesignCap?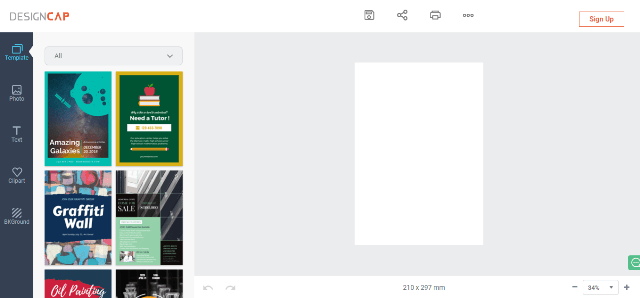 You can create your own free posters and flyers in just a few simple steps. Just visit the DesignCap. On the homepage hit the "Make a free poster/flyer " button.
Here you can start creating your own posters and flyers in just a few minutes. Their editor is very intuitive and easy to manage.
You can also sign up for an account (which is free) to save your work online and edit them at any time.
When you finish creating your poster/flyer, You can export them and save them on your PC.  It is as simple as it.
Why Use DesignCap?
There are so many reasons that you can use this free and powerful online poster/flyer creating tool. To summing up the things for you, here are the few reasons that you should use this tool:
It free to use. No registration and download required.
It comes with a powerful and intuitive editor.
Comes with plenty of professional designs and elements.
Fully Customizable.
Conclusion
DesignCap provides free, easy and professional editing tools for customizing your posters and flyers the way you want, such as adjusting size, position, rotation, changing text font, color, effect, alignment, applying specific background and managing layers. No one can stop you from unleashing your creativity to create amazing posters and flyers that will impress your audience.
I hope you have enjoyed the post and it definitely helps you find out the best tool for creating free professionally designed posters and flyers online.  Don't forget to share the post, if you like it.