8 Types of Content That Blog Readers Expect From your Blog in 2019. Written content has long been the king of blogging and digital marketing. However, the winds of change are a-blowing, with other content mediums such as videos and graphics beginning to rapidly climb the popularity ladder. For bloggers right now, it's never been more important to stay ahead of the game and keep in the loop when it comes to the hottest blog content trends. So, we've put together a handy list of the types of content your readers anticipate.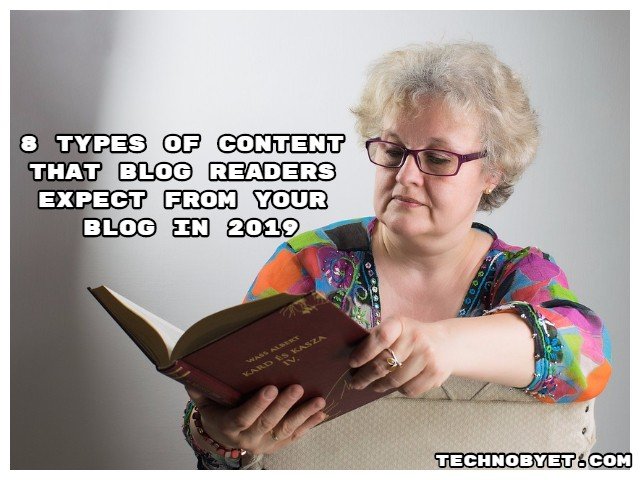 1. How-to Guides:
In today's internet age, a quick Google search is all that's needed to literally find out anything and that's why sites such as About.com and WikiHow do so well. Regardless of your blog niche, there will certainly be something that you can provide your readers with more information about. For example, if you are a travel blogger, 'how-to' guides to help your readers with traveling for the first time, backpacking through Europe, or finding the cheapest flight deals are all sure to attract more click-through.
Even better; ask your readers exactly what they want to know more about, then compile tailored how-to guides to meet their requirements.
2. Infographics:
Written content alone is no longer good enough; if you want to make an impact you will need to complement your words with interesting, appealing media content. Infographics are an ideal method of achieving this – they're the perfect marriage of graphic design and written information combined for a pleasant, enjoyable read.
Infographics can easily be created yourself using an affordable software package such as Adobe Illustrator or Photoshop, with thousands of educational YouTube tutorials to browse through.
3. Listicles:
Fun to write and to read, listicles are one of the biggest digital marketing. In fact, you're reading a listicle right now! When you write a listicle for your blog, you can easily adapt them to suit any topic.
Whether you're listing interesting facts and figures, sharing the top ten ways to do something or talking about the five hottest A-listers right now, this versatile content format can always be relied on to come up trumps.
4. Videos:
Although they're not really under the written content umbrella, videos are must for any ambitious blogger. In recent years, vlogging has been a phenomenon taking the internet by storm. Today, people are vlogging on YouTube, Tumblr, personal or business blogs, and even Facebook; user demand for informational, light-hearted or emotion-invoking videos is swiftly rising.
Video content on your blog can also boost your SEO. Since videos make users happy, you can expect bonus points from search engines for uploading good ones. Additionally, you should always optimize your video description for search with relevant short- and long-tail keywords.
5. Quizzes:
Quizzes are hugely popular – they're the highlight of digital marketing and you probably see them on your Facebook newsfeed at least a couple of times a week. Quizzes are far more interactive than articles; they provide your readers with something fun to do and offer a more customized experience.
Whether you're testing your readers' math skills or designing questions and answers to show them which animal they'd be in another life, entertaining quizzes are in high-demand online. They also provide a great opportunity to teach your readers something new.
6. Personal Stories:
Depending on your blog niche, you may be able to enhance the selection of content available by adding some interesting personal stories that your readers can learn from. For example, if you're a personal finance blogger, you could tell your readers how you managed to quickly boost your credit score, or how you finally hit your first $1,000 in savings. Stories such as these which combine interesting details with informational tips are the perfect framework for boosting your online presence and authority.
When your real-life experiences can help your readers out, you'll gain a bucket load of trust in return. If you're passionate about your niche, then it's more than likely you'll have a lot of experience to share, so don't waste it!
7. Memes:
Unless you're blogging about something sad and serious and it would be wildly inappropriate to include them, memes are fundamental to creating sharable, quick content that your readers can laugh at. Humor isn't something that you should leave as an after-thought on your blog; giving your readers a giggle will strengthen their loyalty to you and encourage them to come back for more.
Constantly trending and simple to make yourself online, there's no excuse not to use them!
8. Link Pages:
The more authority links on your blog, the better. So, help your readers out by connecting them with great resources on the Web. Link posts can take the form of any type of content; you can put them in video descriptions, create image links, or simply include hyperlinks in your written content.
Sometimes referred to as a link roundup, a good link page consists of a useful links list with handy information about each one included. Building link pages are one of the best ways to share the love with other blogs and sites, in turn providing yours with authoritative SEO signals.
Did you find this list helpful? Please be sociable and share it with your friends!