Windows 10 is quite popular and one of the fastest evolving operating system.  Since the launch of it, Microsoft has constantly made necessary changes and upgrades to this operating system. It also comes to the news that Microsoft will launch its Windows 10 April 2019 update to all users.  This update is also known as Windows 10 version 1903, or 19H1. The update will be rolled out in Mid April of 2019.
In this post, we are going to tell you about the changes and new features that you will get with this update.  Windows 10 October  2018 update created havoc for users as some of them complained about complete data loss and other compatibility issues. This also slows down the update launch. However, Microsoft is quite confident about that Windows 10 April 2019 update will be a game changer and resolve every issue that comes in the previous version of Windows 10.
1. Complete New and Simple Start Menu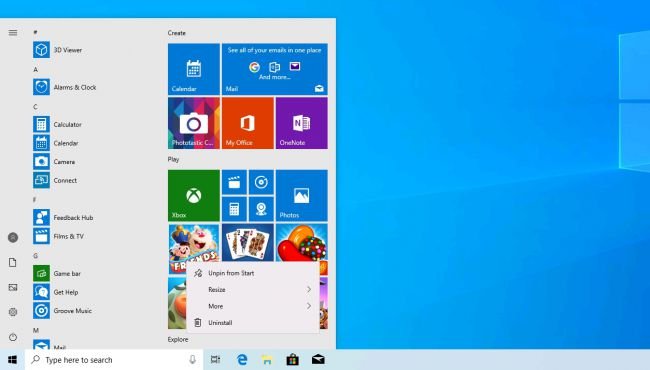 Windows 10 April 2019 update, Microsoft comes up with a simple and clutter-free startup menu design. Like it's previous versions, the Start menu which you first use the update is much less cluttered, with tiles and shortcuts for pre-installed apps not taking up as much space.
However, there are still a number of apps and games that come pre-installed, and there are also some of the apps that you don't want to use. The New Windows 10 April 2019 Update, you can now uninstall more pre-installed apps that you used to.
2. A New Light Theme
The all-new Windows 10 April 2019 Update will come up with a new Light desktop theme. Which makes a nice contrast to the Dark theme that we're used to with Windows 10.
It does not only make the taskbar and Start Menu lighter, but some new icons have been created that better compliments the new Light theme.
Rest of all, you can now mix and match parts of the Light and Dark theme to get a look that best suits your tastes.
3. Crotona removes from Search Option
You currently have notice that Crotona has been integrated with the search options. But in April 2019 update, Microsoft has removed the Crotona from the search option. In the new update, You will see both the search and Crotona in separate icons.
4. You Can Now Pause Update
This is a big issue that Windows 10 users always complaining about that they are not able to stop or pause the updates. But in this update, Microsoft provides its users to stop or pause the updates.  The Windows 10 April 2019 Update will now allow people using Windows 10 Home edition to pause Windows updates for a set number of days.
5. Reserve Space for updates.
Well, this is an all-new addition to Windows 10 features.  This is also one of the controversial features that the Windows 10 April 2019 Update brings is which will now reserve 7GB of space on your hard drive which will be used to store temporary files.  Well, Some users are not likely voted for this feature and Users may have an issue with it especially if you are using low sized HDD.
6. Helpful Error Message
Microsoft comes up with more helpful error messages with this new update. The Blue Screen of Death is quite infamous at this point, always popping up whenever Windows runs into a critical error, but they've never been very useful to average users. But, it looks like that might be changing with the Windows 10 April 2019 Update.
Their more helpful error messages, windows can now tell you how to resolve the issue. Which is a big relief and time saver for the users?
7. A Lots more with Microsoft Edge
Microsoft Edge is a Quite popular and innovative browser from Microsoft. In terms of its features, the update might come bundled with a new Chromium-based Microsoft Edge browser which will replace the current Edge browser, Fluent Design refinements, and new features.
Conclusion
Despite ups and down, Windows 10 has gained popularity in recent years. Microsoft trying harder to make it more intuitive and a secure operating system. There is no Doubt that Windows 10 April 2019 update can make this more secure and user-friendly operating system. Hope you will like the post.