Now that we are living in the era of smartphones, everything around us is getting smarter day by day. After smartphones, smart TV, smart bulbs and likes, we have smart home. Now when do you call a home 'smart'?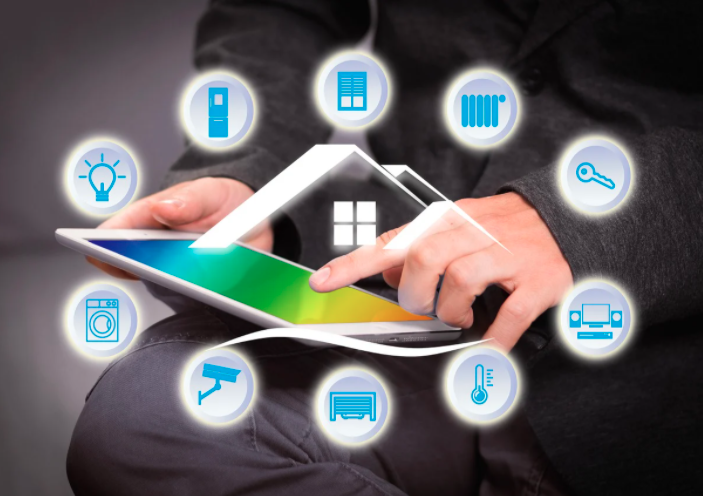 A smart home is a setup where the devices and appliances are controlled from remote places with the help of an internet connection using a smartphone or any other device.
Devices that are kept inside a smart home are interconnected via internet, letting the user to control various daily functions like temperature, security access, home theater and lighting remotely. So what are the key takeaways of a smart home?
A smart home lets homeowners control lights, thermostats, appliances and several other devices from remote places with the help of a tablet or smartphone. However, in order to do all this, you need a strong internet connection.

Smart technology

driven homes helps homeowners cut down on costs, especially in the form of utility bill savings.
Smart homes are set up through hardwired or wireless systems.
There are bugs and security risks that keep plaguing the users and the makers of smart homes.
How to make your home 'Smart'
In order to make your home 'smart', you have to install smart components in your home so that they form the rock-solid foundation of a smart home. Here are few gadgets you may choose to install.
Smart Lights: Lights are the entry point of a

smart home

. You get bulbs from TP-Link, LIFX which can communicate through Wi-Fi and there are also others that may communicate through the Bluetooth radio of your smartphone. These bulbs can be controlled remotely through your smartphone.
Smart Speakers: Is there anything more convenient that just taking out your smartphone and asking it to dim the lights at night? The Google Home and Amazon Echo series are said to be market leaders in the realm of smart speakers. Get them and make life easier.
Smart Thermostats: A smart thermostat can give its user both cost and energy savings and comfort. They are capable of detecting when you'll be home and when you'll be away. The HVAC system will thereby operate only when it is required to operate. This again saves your utility bills.
Security Cameras: A premium quality home security camera will let you keep a watchful eye on your home, particularly when you're away. With the help of the indoor models, you can keep a close watch on your pets, children and your ageing parents.
Smoke & Carbon Monoxide Detectors: The traditional smoke and carbon monoxide detectors used to be dumb enough. Though it is true that the alarms have to be loud but when there is none at home, who is going to listen to the alarm? Installing a smart smoke detector will give a local alarm too but at the same time, it will send a signal to your smartphone in case it detects danger.
Features of a Smart Home
Let's not beat around the bush and go straightaway to the main features of a smart home.
Advanced and latest home network
Did you hear about the Internet of Things? It is a network of devices controlled wirelessly that is gradually becoming an inseparable part of our lives.
To maintain an Internet of Things network that is highly functional, you'll need an advanced home network. This will act as the central nervous system of your home.
Remote Access
When we speak of a smart home, we actually mean having remote access to the systems and appliances of a home. You can operate the systems of your home without having to clone yourself.
Remote access may let you check on your home via video surveillance, unlock the door, switch off the thermostat or the lights.
Tight Security
With the advanced security of automated or smart home, you get top-notch protection. For beginners, there are several smart home surveillance cameras that send notifications which can be able to understand the difference between strangers and welcome guests.
The best thing about this home security system is that the installation of home automation can be personalized to meet your security needs.
Do you think you would like to invest in creating a smart home? If yes, pull in the above listed components under a single interface.