How to Fix Outlook Cannot find OST File Issue in Microsoft Outlook?
OST files resides on the user system and they are duplicates of the user mailboxes on an Exchange Server. If you are using an Outlook.com or Exchange account, the information is stored in Offline Outlook data file using an OST format. Sometimes Microsoft Outlook cannot find OST file due to some changes in the Outlook settings or some other factors.
It is very often that Outlook is vulnerable to many issues which are unexpected and make the data inaccessible to the user. Such issues arise due to virus intrusion, poor power outrage and various other factors. One such error can be, Outlook 2016, 2013, 2010 unable to find OST file, which is commonly faced by the users. Under such situations, the users look for several options to resolve the Outlook issue. This blog will help to understand the reasons why the users cannot locate OST file with its possible solution.
User Queries
Based on the relevant queries related to this error are listed below which will help to give a clear picture of this Outlook error,
"My Outlook was working fine, suddenly I caught up with some change in the Outlook settings. Thereafter, I am not able to open the OST file in MS Outlook. It shows the error message as, Outlook cannot find OST file. Is there a solution to open the OST file?"
"I recently upgraded the software to Outlook 2016. Then, I noticed that my Outlook which is connected to an Exchange Server is not syncing i.e., not able to send or receive emails, calendar, updates, etc. So, I deleted and recreated a new profile still I am facing the same issue. It prompts the error message as,"Cannot start Microsoft Outlook. Outlook is unable to locate the OST file." Could someone explain the possible solution to troubleshoot it?"
"I am not able to open the Outlook OST file. When a specific user logs in, it shows as "Outlook cannot find the OST file" error. However, it is very surprising that when a different user logs in, the Outlook account automatically opens. I am not sure what is causing to lead such error, can anyone suggest some solution?"
Reasons Behind Outlook Cannot find OST File Error
There are various software and hardware reasons behind this error, some of them are listed below:
Storage Device Failure– An Exchange OST file is stored in hard drive and if the drive is in a bad state, can lead to OST corruption
Improper Installation– When an Outlook is not properly installed which means there are improper file settings which can raise OST issue
Virus Intrusion– Any Virus or malicious software can damage the Exchange OST file which makes the OST file to go under inaccessible state
Poor Network Connection– When the OST synchronization with the network connection fails due to poor network connection, the OST file cannot be accessed
Best Solution to Fix Cannot Locate OST File Issue
It is known from above that there are various causes which may lead the OST file to corruption and prompt Outlook 2016, 2013, 2010 unable to find OST file error. In order to resolve this issue, it is recommended to use SysTools OST to PST Converter software. It is an efficient tool to convert the OST data file which includes emails, calendars, contacts, etc into PST file format.
Some of the important features of this tool are listed below:
Converts OST file into PST, EML and various other file formats in batch
Supports conversion of OST file also from Office 365 and Hotmail OST file
Provides data recovery, backup and extraction for all OST mailbox file
Allows restoration of deleted data from Offline OST data items
Date Filter allows to export data by selective date range
Maintains on-disk folder hierarchy after the conversion process occurs
Working of the Conversion Software
The below mentioned steps will help to resolve Microsoft Outlook cannot find OST file error by converting OST file:
Firstly, download and install the software in your system
Open the software and click Add File to add the corrupted OST file
Navigate and add the OST After adding, it will scan and preview all the data items of the OST file along with attachments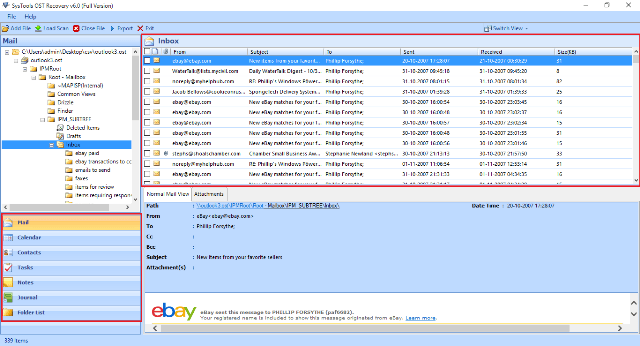 Now, select the required emails or folders and click Export to convert multiple emails
Click on PST file format radio button to migrate the OST files to PST Then, click Advance Settings to apply customized filters which will apply to the resultant PST file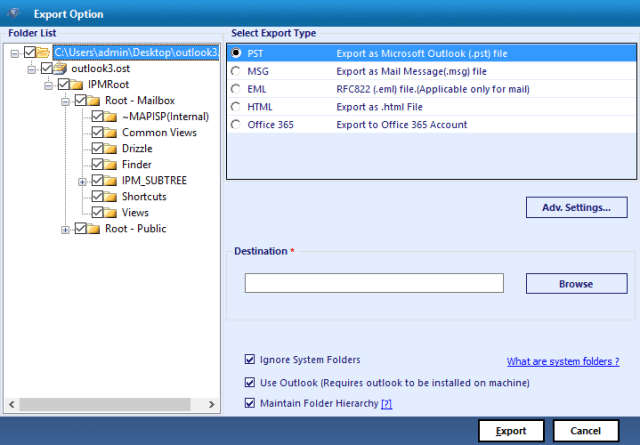 Now, click Browse to save the exported file in the desired location and click Export
Upon successful completion of the export process, a pop-up message will appear, click on the OK button
The OST file is successfully converted into PST Now, import the converted PST file in the Outlook account.
Conclusion
This blog emphasizes various reasons for Outlook cannot find OST file issue. There are various factors which can be controlled and brought down up to some extent by taking necessary preventive measures. Considering all these factors, it is advised to use OST to PST Converter utility which can be easily followed with the above mentioned steps. It is an ultimate solution to convert OST file into PST format without any hassle. It also maintains the data integrity after the file conversion making no chance for any loss of data.